Massage Therapy & Reflexology
Over many centuries and across many disciplines, touch has been seen to be a most effective form of healing. The Valley Clinic boasts two highly qualified, experienced massage therapy & reflexology therapists, Rachel Byrne and Nuanchan. Both practitioners offer a wide range of treatments as detailed. They keep their own diaries and can be contacted directly.
Rachel Byrne Massage Therapist & Reflexologist
At The Valley Clinic, Rachel offers a whole body approach to treatment. She is trained in various types of massage: Sports & Deep Tissue Massage, Remedial Massage, Advanced Techniques, Holistic Massage, Dry Cupping, Hot Stones, Integrated Myofascial Release and Reflexology.
Treatments are tailored to individual needs and will vary depending on individual requirements.Using a combination of techniques can provide a very powerful and effective treatment. Treatments are not just for sports people, everyone can benefit.
"Treatments are not just for sports people – everyone can benefit".
You look after your car, so why not look after your body? Having a treatment on a regular basis will give you more energy and vitality and can help keep you active and mobile.
Rachel offers a wide range of treatments at The Valley Clinic.
These include:
• Sports Massage • Deep Tissue Massage • Remedial Massage
• Holistic Massage  • Integrated Myofascial Release
• Reflexology
Rachel also offers a range of advanced treatments at The Valley Clinic.
These include:
Trigger Point Release • Neuromuscular Technique • Muscle Energy Technique • Stretching & more.
Call Rachel for more details.
If you would like to talk about Massage Therapy & Reflexology or book an appointment with Rachel, please call: 07769 943 971
Alternatively you can email your enquiry to: rachel.byrne@btinternet.com
Nuanchan Anderson Thai Massage Therapist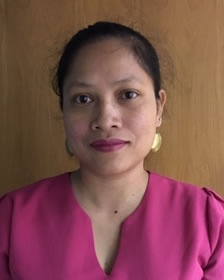 Nuanchan is a qualified Traditional Thai Massage therapist. I trained and qualified in my native country of Thailand, at WATPO Thai Traditional Medical and Ayuravate Association School. I have lived and worked in the UK since 2005.
Hot Oil Thai Style Massage
Thai Hot Oil Massage is a light, painless massage of the muscles. It is preferred by people who do not like the firmer and deeper massaging techniques. The happiness and wellness received from oil massage stimulates the build-up of endorphin hormones, which help improve psycho-immunology. It also promotes health and is helpful in refreshing the whole body, reducing pain and helping with relaxation.
Thai Foot Massage
Thai Foot Massage is an ancient Chinese massage that has been used for more than 3000 years. It can help prevent and relieve many ailments such as headaches, tension, asthma, constipation, sinusitis and migraines. The sensory nerves of internal organs are spread throughout the body, with some connecting with other organs as well as the skin. All of these sensory nerves have an association with the base of the foot. Foot massage is great for stimulating the activity of internal organs; and improves blood and lymph circulation which is beneficial to your overall health. This method uses hands, fingers and a wooden stick with cream or oil.