Strength & Conditioning
Strength and Conditioning Coaching describes the design, delivery and demonstration of bespoke performance orientated physical preparation programmes.
A Strength and Conditioning Coach works with individuals or teams, with the objective of improving performance in a particular sport.
The scope of Strength and Conditioning Coaching extends to strength, speed, power, endurance, agility and flexibility.

Monica Torland BSc, MSST Sports & Exercise Therapist, ASCC Strength & Conditoning Coach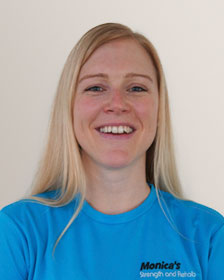 At the Valley Clinic Monica offers deep tissue massage (sports massage) combined with mobilisation & stretching techniques to aid recovery and keep on top of any niggles you might experience. As a combined Sports Therapist and Strength & Conditioning Coach, Monica is able to give advice on optimal training and recovery strategies.
"You don't have to be an athlete to get a sports massage"
Monica uses her vast experience working with athletes, such as Welsh Athletics, Bristol Rovers Football Club and Norways' 24 hour ultra-team, to ensure you receive the most professional service possible. With an approach tailored to your goals, Monica can help you optimise your sporting performance, or just assist you in gaining and maintaining your ideal fitness level.
Monica offers a wide range of treatment at The Valley Clinic. These include:
Sports Massage
Deep tissue massage
Nutrition advice
Trigger point release
Stretching and mobilisation tecniques
Strength and conditioning advice
Recovery strategies advice
If you want to find out more about Monica's experience follow her on facebook @ Monica's Strength and Rehab. If you have any queries or want to book an appointment please contact Monica on: 07942 461 440 or email mtorland@googlemail.com
"Monica is extremely professional in her approach towards treatment and personal training, and she is extremely knowledgeable in the areas of S&C / Sports Therapy. I relied on Monica for many months during my indoor and outdoor track seasons, and I know that getting massage therapy from Monica on a weekly basis is what kept me injury free throughout. Monica would be the first person that I would ask for any injury related advice because she has a proven track record of keeping people healthy and helping to alleviate any chronic pain that may exist. In addition, Monica introduced me to many different strength and conditioning exercises that contributed towards my success in representing Great Britain at the European u23 Championships, and being part of Team Wales at the 2014 Commonwealth Games"
"After retiring from playing rugby, I was looking for the next challenge. So I committed to completing an Ironman Triathlon. I met Monica in my local gym and got chatting about training etc. I then realised she was a Strength & Conditioning Coach and masseur. With the amount of training I was starting to complete I was worried about picking up injuries etc. Monica suggested that I could benefit from some treatments.
When the treatment first started I thought it was causing me more pain than good, but after a day or so, my legs felt a lot better and assisted greatly in my recovery. Depending on how I was feeling with my training, I was receiving treatment from Monica once a fortnight up to once every 3-4 weeks. I have no doubt in my mind that, had I not had the ongoing sport massages, then I would have picked up injuries which would have greatly affected my performances in the two events in Zuich and Tenby, and the 9 months of training to be able to complete the competitions.
Along with the treatment Monica would offer sound advice in relation to strengthening for core muscles and stretching to aid recovery and prevent injury. I would strongly recommend seeing Monica to anyone who trains regularly. I have already referred several friends who have also benefitted from her expertise and friendly manner"